Parker County Special Utility District offers a wide variety of convenient payment options for our customers. Simply choose the option that best suits your needs.
Payment By Mail
If paying by check or money order through the mail, please send all payments with your payment coupon. To avoid late fees, please mail your payment at least five to seven business days before the 10th of the month to PCSUD 500 Brock Spur Millsap, TX 76066.
PAY BY PHONE*
Call toll-free 877-885-7968. Make sure to have your bill handy to provide your customer account number.
Office Payments
You may pay your bill in person at 500 Brock Spur, Millsap, TX 76066. We accept water payments in cash, personal check, money order or credit/debit card during regular business hours. To avoid longer wait times, please note that Mondays, Fridays and the first day after a holiday are normally very busy.
After Hours Drop Box
As an added convenience, a secure after-hours drop box is located in the drive through area of our office at 500 Brock Spur.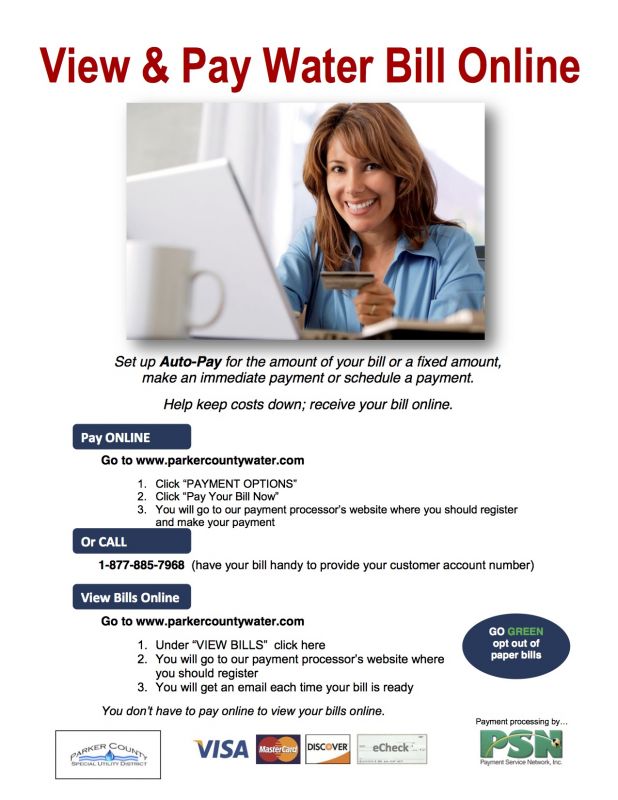 PAY ONLINE / AUTO PAY*
Click here to pay. The first time you will register; after that, payments are an easy 3-step process. You can make a one-time payment or set up Auto-Pay for automated recurring payments. You can pay by check, savings, credit card or debit card. You can also print receipts.
VIEW BILLS OR AMOUNT DUE (Free service)
Click here to view your bill or balance due. You need to register the first time in order to view your bill and receive notifications when your bills are ready. You can also print bills.
PAY BY SMART PHONE OR TABLET*
Download "PSN Payments" from the App Store® or Google Play™. TIP: Go online the first time to create your payer profile HERE.
*By paying online, mobile or phone a $1.00 fee is charged for checking/savings payments; 2.75% (+50¢ if payment is less than $100) is applied to credit/debit card payments. Viewing your bill or balance due are free services.
HELP
If you need assistance with viewing your bills or paying online, call PSN at 866-917-7368.
If you have questions on the amount of your bill or need service, call the PCSUD at 817-594-2900.
We use Payment Service Network to process our payments and post bills. PSN has been certified as maintaining the highest level of security as required by the credit card industry.